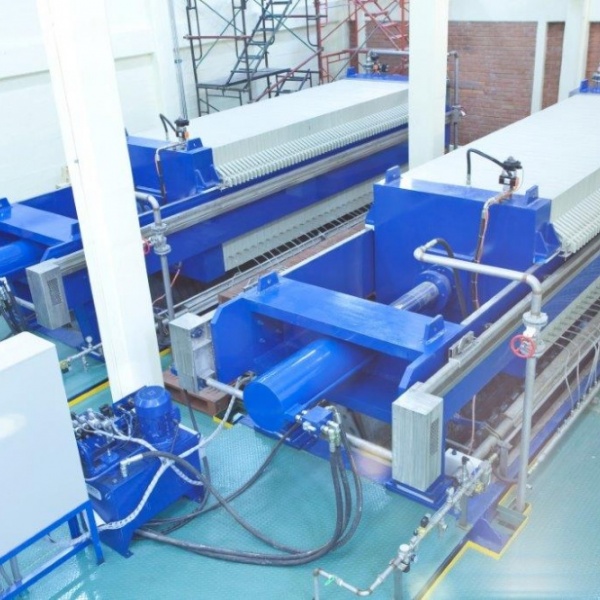 IEA Filter Press
---
Machine Design
The base of the machine structure of the IEA filter press is the massive frame, the hydraulic closure and optional design feature (cloth washing, etc...). The dimensioning of the IEA filter presses happens via the different plate formats, which give the filter surface. Dimensions from 250 x 250 up to 2,000 x 2,000 mm are available and can be realized with pressures up to 25 bar.
IEA-side rail construction
from simple manual to fully automatic design options
automated cake discharge
---
Available IEA Filter Press option
IEA-chamber filter presses
Conventional filter presses in robust construction and different applications. Various plate formats and different cake thicknesses adapted to the applications. Filter plate materials in polypropylene or superior, for applications ranging from 15 - 30 bar are available.
IEA diaphragm filter press
Membrane filter plates are designed on the basis of the chamber filter plate and additionally include an elastic diaphragm, which provides the filter cake a higher dewatering force. As pre press media compressed air or water can be used which allow pressures up to 30 bar.
---
Applications
Maintaining a clean environment requires filters to separate solids from liquids. IEA provides filter presses for a variety of applications and industrial fields.
The sectors include:
industrial and municipal wastewater treatment plants
Food and beverage industry
chemical industry
Pharmacy
Mining
Paper industry
Mining and minerals 
Among the applications: 
treatment of sewage and drinking water
Sewage treatment
chemicals and pigments
metallurgical products and ore slurries
Minerals and inorganic products
Food
Pharmaceuticals